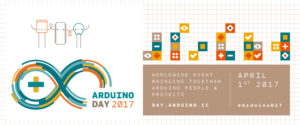 On April 1st (no joke!), for the third year running, we will be hosting an Arduino Day event at the hackspace.
The event itself will begin at 10am and will include several talks from current members on Arduino basics, a show and tell of projects that have been made using Arduino and, of course, the workshop will be open for anyone to try their hand at building something, with lots of members on hand to help out.
For non-members the event will be free to attend so if you think you know anyone that would be interested in learning about this invaluable digital making tool, or would just like to learn something new please share this post with them.
The presentations / talks given on the day will be:-
10:30:- What is an Arduino
11:00:- The Arduino IDE
11:30:- Writing an Arduino Program (Sketch)
12:30:- Installing Libraries and Boards
13:00:- Data protocols (intermediate talk)
As well as this we will have members on hand to answer any questions or help out with your projects up until 16:00